Windsurf-Rental: Sailpool
Included in the rental depending on the booked category
Ben Severne – founder and windsurf innovator:
"It's an absolute honor to have our sails in the René Egli center. The setup there is premium; super professional, perfect conditions and great people. For us to give their customers access to our gear is very important - we work extremely hard to create sails, masts and booms that make windsurfing easier and more fun. And to boost everyone's experience at the René Egli center will be great for everyone involved.
I'm very much looking forward to working closely with the whole team and spending more time windsurfing there myself."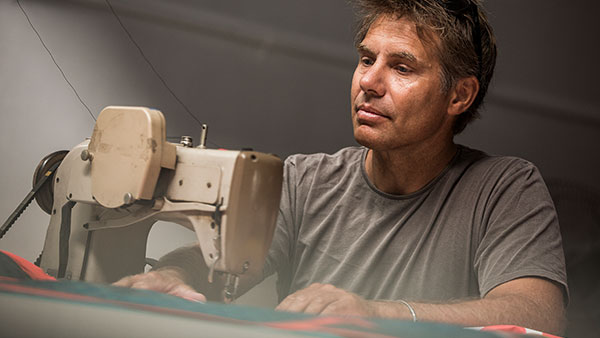 Depending on the category booked, all sails are rigged with the following components: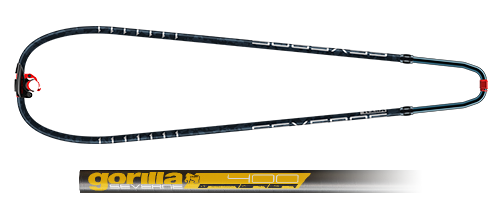 SPORT & WORLD CUP line
High quality components with excellent performance
METAL Aluminium Boom
Gorilla G2 RDM Mast (1.65 kg at 400 cm)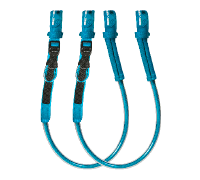 All sails are equipped with the high quality Severne Vario harness-lines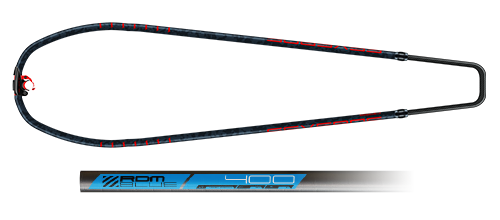 PREMIUM line
Uncompromising rigidity at the lowest possible weight
Enigma 100 % Carbon Boom
RDM BLUE Carbon Mast (1.5 kg at 400 cm)
The Freek can be used exclusively with a booking for the JP Freestyle PRO or the Starboard Flare as a fixboard
The Turbo GT can be used exclusively with a booking for the Starboard Futura Carbon, the JP Super Sport PRO or the Severne Fox as a fixboard
The Overdrive M2 can be used exclusively with a booking for the Starboard iSonic Carbon as a fixboard
PREMIUM PANELED TECHNOLOGY
1. CONTROL ZONE
The upper section of the sail defines the control characteristics of the sail.
Lightest materials in the main body for easy handling
Bordered by a heavier leech material for durability
2. POWER ZONE
The mid section generates the sail's power and dictates how easy the sail is to see through
The Dacron luff panel is softer and has increased stretch characteristics. This creates a more forward pulling profile as the sail inflates.
3. IMPACT ZONE
Heavy duty materials are kept lower in the sail, the area traditionally prone to damage with knees and harness hooks.
Twisted fibres and stronger yarns are combined with thicker films for maximum durability. This extra weight is kept low in the sail so it does not affect the swing weight and lightweight feel of your sail.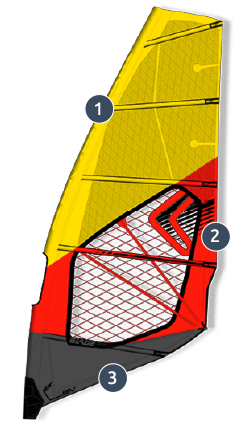 BLADE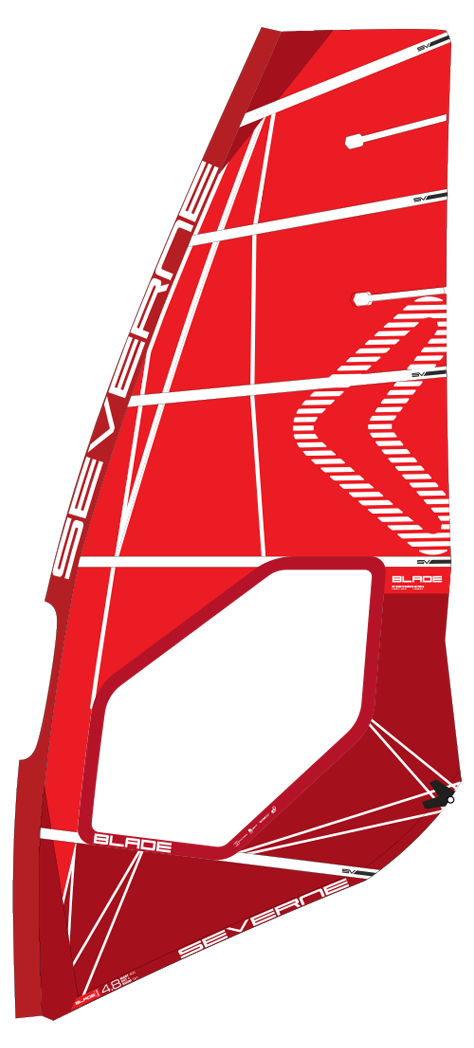 The ultimate all-rounder benchmark wavesail
Perfect blend of power and control
Maximum strength with minimum weight
Sizes
3.0 |3.3 |3.5 | 3.7 | 4.0 | 4.2 | 4.5 | 4.7 | 5.0 | 5.3
Range of use: WAVE
GATOR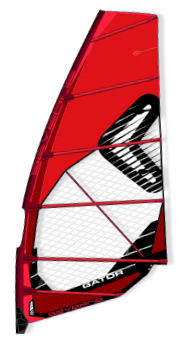 The Freeride sail to maximize your stoke
Early planning, longer control
Consistently soft, springy feel and maximized stability
Sizes
5.5 | 5.7 | 6.0 | 6.5 | 7.0 | 7.5
Range of use: FREERIDE
S1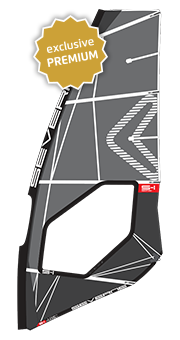 Maneuver oriented wave sail with hugewind range
Light, flexible and responsive
Engineered for performance
Sizes
3.3 | 3.6 |4.0 | 4.4 | 4.8
Range of use: FREEWAVE
NCX
Engineered for no-cam freerace performance
3 main aspects: Speed. Power. Stability
Incredible control and impeccable handling
Sizes
5.0 | 5.5 | 6.0 | 6.5 | 7.0 | 7.5
Range of use: NO CAM RACE
FREEK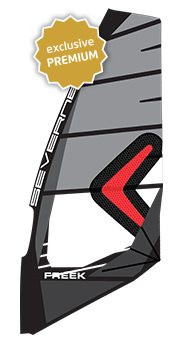 Decicated freestyle performance
Maximum lift, stability and easy ducking
Increases power and enables explosive pop
Can be used exclusively with a booking of a PREMIUM freestyle fixboard (Starboard Ignite or JP Freestyle PRO)
Range of use: FREESTYLE
TURBO GT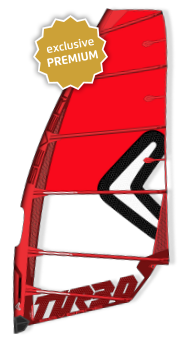 Fast and aerodynamic cam sail
Optimal for power and drive through gusts
Can be used exclusively with a booking of a PREMIUM racing fixboard (Starboard Futura Carbon, JP Super Sport PRO or Severne FOX)
Range of use: FREERIDE/RACE