René Egli Fuerteventura
The perfect location for your Kite- and Windsurf holidays!
About 3km to the south of the village Costa Calma, very calm in a protected natural space, in the upper part of the 30 km long Playa Sotavento.
The René Egli Megastore are integrated into the Hotel Meliã Fuerteventura. The kite-center is situated in the garden of the hotel and the windsurf-center only 200m walking distance away.
Fuerteventura is the second largest island of the Canary Islands and is located about 120 kilometers west of the Moroccan coast in the Atlantic Ocean. After about 4 hours flight-time from mainland Europe, you arrive at the airport Fuerteventura near the island's capital Puerto del Rosario.
Approximately 50 kilometers south of the airport are the René Egli Center at the northern end of the miles of beautiful white sand-beach of Sotavento, a landmark of Fuerteventura.
This part of coastline is one of the most beautiful beaches in Europe and guarantees for a relaxing holiday. The extensive sandy beach provides ideal conditions to launch and land the kite, which contributes not only to comfort but also for safety. The 4 star Hotel Melia Fuerteventura is only 200m away from our centers.
Due to the unique wind- and waterconditions, the annual World Cup Fuerteventura Grand Slam for windsurfing and kiteboarding is held here since 1986.
The popular resort of Costa Calma, with its many first-class accommodations and shopping-facilities is located only 3 minutes north of the René Egli Center – further south you find the towns Esquinzo (8km) and Jandía (about 12km).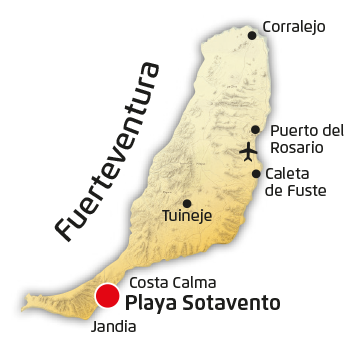 The climate
The climate in Fuerteventura is pleasant all year round, not in vain, the Canary Islands are known as "islands of eternal spring". The hot air masses of the nearby Sahara are kept away by the steady trade wind, so that the average daily temperatures are between 20 degrees in January and 28 degrees in August. The night temperatures, also in the winter months, usually don´t cool under 16 degrees. Fuerteventura counts with only 147 mm rain per year with very low precipitation.
Water temperatures range from 19 degrees in the winter months and 23 degrees in late summer, long wetsuits therefore be safely left at home.
The Sotavento wind funnel
The Rene Egli Centres are located in the Sotavento wind funnel. Optimal geographic conditions allow the prevailing north-east trade wind to accelerate between two mountains.
In addition to this, the air on the island is heated by the sun and rises upwards, compressing the slightly cooler trade wind as it pushes itself beneath the warm air.
When the wind in the René Egli Center once again reaches the sea, the compression and the wind become free, generating a renewed acceleration. This double acceleration effect makes the wind substantially stronger than in the surrounding area – perfect for windsurfing and kiteboarding.